neuroendocrine tumors
Josh's story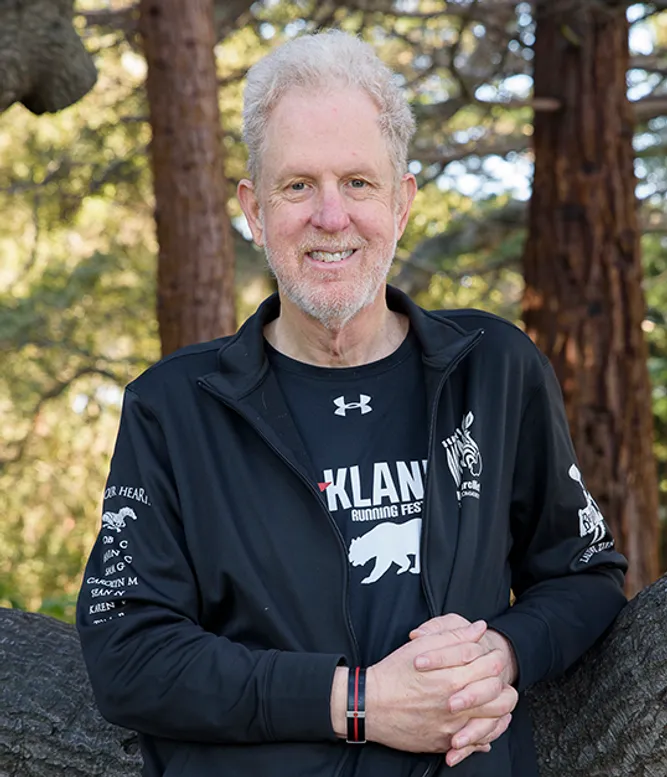 Josh was a fit 46-year-old – biking about 160km a week – living happily in California with his wife and baby, when he went for his annual health check. Following the routine physical exam, his doctor felt that something wasn't quite right with the position of Josh's liver and recommended an ultrasound. Just a few months later, Josh was diagnosed with GEP-NET – and was left wondering if he would see his son's first birthday.
A rare, life-limiting disease
"My mother was a nurse, my father a doctor – getting regular check-ups was just one of the things we did. I felt healthy so didn't have any concerns," explains Josh, looking back to 2007. "When my doctor suggested I get an ultrasound, there was no sense of urgency – so it took me about two months to sort it out. I was therefore really shocked when they found a large tumor on top of my pancreas."
"At first, they were pretty sure I had standard malign pancreatic cancer and that they were looking at a dead man walking."
However, after further tests including a biopsy, Josh was diagnosed with gastroenteropancreatic neuroendocrine tumors (GEP-NET) – a rare, life-limiting disease he knew nothing about and which his doctor had never seen before. The tumor on his pancreas was the size of an orange and 75 percent of his liver was full of tumors. But, as the tumors were non-functioning (non-hormone producing) and Josh did not have any symptoms, he was told there was no treatment. "I was not a surgical candidate because of the pancreatic tumor's size and location, and at the time of my diagnosis, there were no approved drugs or treatments for those without symptoms."
"My oncologist suggested a 'wait and see' approach to my care. Doing nothing was challenging when so often we hear that we have to 'fight' cancer."
Later, when his GEP-NET progressed to functioning, hormone-producing tumors, Josh began treatment which involved receiving an injection every 28 days. Feeling tethered to a clinic that could administer the shot was not easy, but Josh still counted himself lucky. "For me it was an hour's drive each way because of where my facility was and honestly, compared with some, I was lucky."
The need for better awareness
At time of diagnosis, Josh wanted to understand his condition but found that many doctors had very limited knowledge of NETs. Instead, he turned to the internet: "It was like drinking out of a fire hose – it was great to find information, but much of it was wrong or didn't apply to me. Google doesn't make you a great doctor!"
However, over the years he has become something of an expert in his own disease. Today he is engaged in several organizations, travelling the world to share his perspective as a patient advocate. "It is important that we all share information so that other people can stand on our shoulders, so to speak. I want to make sure that what has happened to me, and the things that I have been through, are not locked in a silo; that my experiences can be of use to others. This is why I do what I do," he says.
"Enjoy every moment"
Josh has now been living with his disease for 16 years, a fact he finds pretty amazing.
"At the end of the day, we still cannot cure this, so we need to figure out how to live with it, like diabetes or any other long-term chronic illness," he points out.
"My advice to anyone just diagnosed with GEP-NET is, first of all: Don't panic! Know that today there are lots of places and groups where you can get support and share information with others who are going through or have been through what you are facing." And Josh believes it is important to acknowledge that, despite a rare disease diagnosis, no one knows the future. "None of us are going to live forever, so everyone – not just those living with cancer – have to remember to enjoy even the small moments in life!"
Symptoms
Redness of the skin (flushing)
Diarrhea, stomach pain
Asthma-like symptoms
Carcinoid heart disease
Diagnosis
Diagnosis of NET is based on clinical symptoms, imaging studies and biochemical tests.
Treatment
Several factors help define the appropriate treatment of NET, including tumor location, invasiveness, hormone secretion, and proliferation. Surgery is often performed either as a cure or for symptom relief. In secretory tumors, somatostatin analogs are used to relieve symptoms by blocking the release of hormones.