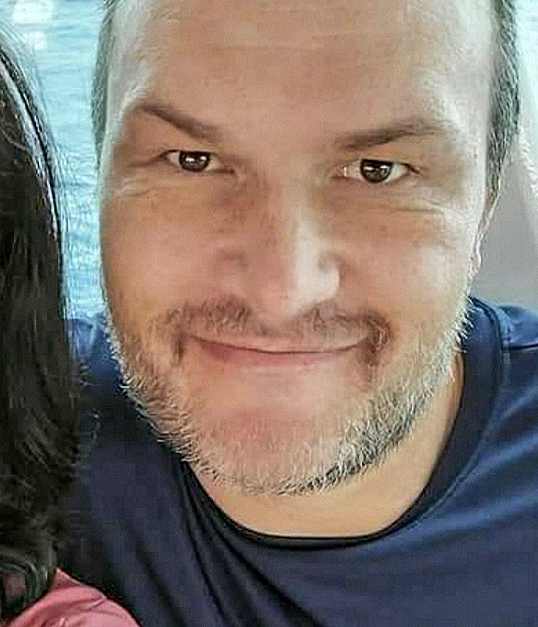 "To be told you have a brain tumor is a lot. It was overwhelming and it was sudden. Our lives changed in that instant," says John, remembering when, back in 2008, he was diagnosed with acromegaly.
Living with a chronic disease
John had gone to the doctor because of swollen and painful hands, numbness and tingling in his arms and severe headaches. These symptoms were the result of excess growth hormone, caused by a golf-ball-sized brain tumor on his pituitary gland. The first doctor John saw dismissed it as carpel tunnel syndrome, which did not make sense to John. Luckily, he was persistent and got a second opinion.
John was told he needed surgery – immediately. "I was very blessed to have an endocrinologist that knew what he was talking about. The surgery had to be done by someone who had experience of removing these kinds of tumors.", he says. "The operation took seven hours. I am sure it was more difficult on my wife, who was nine months pregnant at the time, than me! Afterwards the surgeon said, 'we got it all, you are good to go'! "
"In my eyes, I was cured. I was not given any follow up appointments. I felt great, in fact, better than ever!" It wasn't long before John was back at work.
John found taking time off work to recover tough: "I used to work as a plumber and took pride in not missing work, so it was a big thing for me. I love working hard. I was a farm kid – I was raised to work hard," he explains.
All was well for about four years. John had a new job working on an oilfield, which he really enjoyed. Then his symptoms returned.
"I had really bad pain in my feet, and my face was all puffy. I had symptoms that I had before the first surgery," he remembers. It was confirmed, John had another brain tumor.
His endocrinologist sent him to a neurosurgeon, who wouldn't operate because of scar tissue from the first surgery. Instead, John was given gamma knife radiation."I was given the most amount of radiation I was allowed in my lifetime, and I was told that it would take 5 to 10 years before we knew the full effects of the treatment."
"But I was getting sicker, I had little to no energy and was in pain almost all day, all over my body, especially in my joints," he says. John saw another endocrinologist, who was willing to operate to remove the tumor, but only after the radiation had to run its course. He was put onto acromegaly medication and finally, in 2014, John had a second surgery which successfully removed his tumor.
Today, John is on permanent disability and a stay-at-home dad because of the severe damage to his body. "We are told acromegaly automatically takes ten years from your life, because of what it does to your body. It is what it is, and our job is to take care of ourselves the best we can. But if life is going to be shortened, we want the quality of it to get better during those times. When you have acromegaly, doctors tell you all the time you are cured."
"There is no such thing as cured. Controlled, absolutely. Your hormone levels are under control and you may not get worse, but you are not completely cured. This is not a curable disease. This is a lifelong struggle."
Dedicated to supporting others
John is part of the acromegaly community and is also responsible for an acromegaly men's group. "This disease has taken so much from me. But because of acromegaly, I have greater compassion for others. By sharing my experiences and challenges, I can bring awareness and hopefully help somebody else," he says.
"So, this is what I plan to do with the rest of my life: to be there for new patients, help them get through this, and to be there for my family – to watch my daughters grow up, get married and start their family. This is where I see my future."
Symptoms
Enlarged hands and feet
Altered facial features
Joint problems
Muscle weakness and fatigue
Anxiety and depression
Headaches
Soft tissue swelling
Excessive sweating
Sleep apnea
Visual disturbances
Diagnosis
Diagnosis is usually made by an endocrinologist, often a pituitary specialist (neuroendocrinologist), although referral may be made by doctors from a range of medical specialties. In patients with symptoms of acromegaly, diagnosis includes the measurement of growth hormone levels and magnetic resonance imaging (MRI) to detect a tumor in the pituitary gland.
Management
Surgery and/or medical treatment, sometimes in combination with radiotherapy.